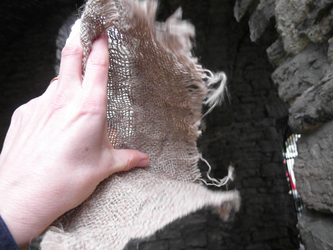 Since 2012, my artistic process has involved the accessing of Individual Mythologies, referring to the term used by Harald Szeemann. Evoked by places and my performative actions, stories of simple women, working, serving over many centuries of time enter my consciousness. The effects of need and desire on the human psyche within oppressive power structures throughout western history is the common thread. I sew these images into needle-sculpted textile objects, I weave lines of graphite on paper or walls. I perform them in installed environments or enact them for self-portrait analogue photographic sequences. The result of my actions accumulate as visual narratives to be experienced with equivocal simultaneity.
My time in Germany, in the center of Europe, has brought me in contact with stories of women in agricultural or industrial poverty, from medieval christian society to forced labor situations in WWII. The first completed photo sequence, titled 'barking the willow' was shot in Mecklenburg in the former east Germany and was premiered in Bavaria in April 2015
(german review)
. Bavaria, as well as the industrial city of Cologne, Germany, the maritime countryside of Cornwall, England and my original homeland of New England are further stations of this ongoing series of works.